The Principal Charity Classic presented by Wells Fargo returns to the historic Wakonda Club in Des Moines from June 5th through June 10th. 2017 defending champion, Brandt Jobe, will be among the field of golfers along with past champions Scott McCarron (2016), Mark Calcavecchia (2015), Tom Pernice, Jr (2014), Russ Cochran (2013) and Jay Haas (2012, 2008, 2007).
News/Talk 1230 KFJB has your chance to win a A PAIR OF TICKETS (good for any 1 day) to watch the action live at the Wakonda Club. Winning is easy… just listen for Kyle Martin to play a quote from a famous golf movie, be caller #10 & you win a pair of tickets! You have chances all week (5/21-5/25) so listen in! Plus all winners will be entered in a Grand Prize Drawing for 2  CLUB PASSES!
2017 DEFENDING CHAMPION:
Brandt Jobe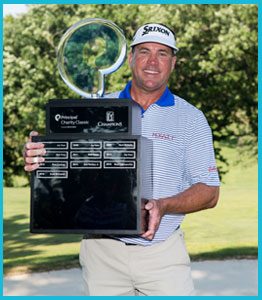 (source & photo cred: Principal Charity Classic)
**The 2017 Principal Charity Classic raised $3,581,427 for Iowa Children's Charities known as their "FORE OUR KIDS" charities**

Wakonda Club:
The Wakonda Club in Des Moines is a 6,959 yard golf course. It was designed & opened in 1922 by William B. Langford, ASGCA.