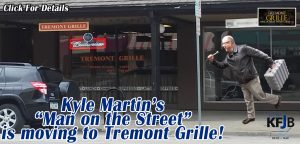 Visit
The Man on the Street
every Friday morning at the Tremont Grille on Main Street in Marshalltown.
This program has a strong tradition of being an avenue for your voice to be heard. Join us every Friday morning at 8:35 and talk about whatever is important to you. If you have a church event, or if your organization has a fundraiser, stop by and tell us about it. 
It's an open forum for you! So join
The Man on the Street
at the Tremont Grille every Friday morning at 8:35 on

N
ews/Talk Radio 1230 KFJB. 
For information regarding the history of Man on the Street Click 
HERE
.