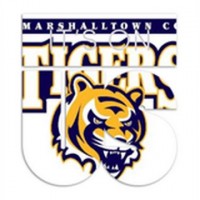 The Marshalltown Community College women's basketball team put together a strong first quarter against Moberly Area Community College, but the Tigers were outlasted on the road by the Greyhounds, falling 77-41.
Freshman Estelle Eduardo (Villeurbanne, France/Lycee Ernest Couteaux) scored a team-high 13 points and grabbed five rebounds while Claudia Morente (Girona, Spain/Institut Juame Vicens Vives) added 11 points for the Tigers.
Morente carried the Tigers in the opening quarter, knocking down back-to-back three-point shots to help MCC get out to a 9-6 lead. The Greyhounds put together a 12-1 run to pull away for an 18-10 lead after the first frame.
Freshman Alyssa Roth (Clinton, IA/Northeast) hit a three early in the second quarter to bring MCC within four, 22-18, but Moberly strung together another big run take a double digit lead. Trailing 41-25 at halftime, the Tigers were outscored 36-16 in the second half.
MCC's scheduled contest on Saturday at Black Hawk College has been cancelled. The Tigers will travel to Grand View JV on Monday night for a 7:00 PM matchup.