Iowa Valley Community College Grinnell honored several students on Wednesday, April 26, recognizing those intending to graduate and presenting numerous leadership and academic achievement awards. MaryAnne Nickle, Dean of Iowa Valley Grinnell, welcomed students, family members, faculty and staff who gathered for the ceremony and reception held on the Iowa Valley Grinnell campus.
Nickle told the crowd that this spring and fall there were 677 Iowa Valley Grinnell students who took more than 4,000 credit hours at IVG. She said this was the second year Grinnell has seen an increase in the number of high school students taking dual credit classes, and that this marks the first year that there are more high school students than college students enrolled. Other highlights from the year include opening a larger Automotive Technology lab in the bus barn by Grinnell Middle School, opening the Firearms Repair Shop and graduating the third class from the Gunsmith Technology program, and partnering with University of Iowa to offer UI classes in Grinnell.
Nickle expressed congratulations on behalf of the faculty and staff to the 32 diploma and associate degree graduate applicants and the winners of awards presented for academic achievement and campus leadership.
The Iowa Valley Grinnell graduates will walk across the stage at Marshalltown Community College Commencement on Friday, May 5, in Marshalltown. Faculty members and support staff presented awards as follows:
Outstanding Academic Achievement: Easton Van Zante, Grinnell.
Outstanding Commitment: Nicole Vukonich, Montezuma.
Outstanding Dedication: Chance Winburn, Grinnell.
Outstanding Graduates: Keith Freilinger, Postville; and Hunter Roenfeldt, Walcott.
Outstanding Leadership: Tanner Toms, Lake City; and Kayte Werner, Grinnell.
Outstanding New Students: Tim Dake, Marengo; and Jennifer McElhaney, Grinnell.
Outstanding Online Student: Susan Schabaker, Victor.
Phi Theta Kappa Pressing On Award: Shane Gibson, Grinnell.
Wellborn Commitment to Excellence Scholarship: Dustin Patten, Grinnell.
All-Iowa Academic Team: Shane Gibson and Kayte Werner.
Phi Theta Kappa Graduates: Elesha Eggert (Norwalk), Shane Gibson, Harold Murray (Dayton), Dustin Patten, Hunter Roenfeldt, Skyler Small (Grinnell) and Rebecca Wright (Victor).
Student Activities Council (SAC) Members: Sammie Campbell (Grinnell), Casey Cuttler (Omaha, NE), Tim Dake, Dean Etzel (Alburnett), Marilyn Fiser (Grinnell), Keith Freilinger, Kaylee Kamp (Grinnell), Hayden Matuszeski (Council Bluffs), Dakota Mendenhall (Mercer, MO), Cheyenne Morales (Grinnell), Harold Murray, Will Patterson (Grinnell), Hunter Roenfeldt, Vanessa Roudabush (Brooklyn), Tanner Toms, Nicole Vukonich, Kayte Werner and Noah Wittrock (Arcadia).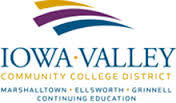 Photo Credit: linkedin.com