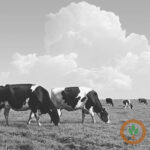 Milk futures on the Chicago Mercantile Exchange ended the week higher supported in part by strong gains in the cash market.
June Class III milk up seven cents at
$20.99. July up 75 cents at $21.19.
August up 73 cents at $19.27. September
46 cents higher at $18.20. October
through December contracts six to 28 cents higher.
Dry whey up $0.01 at $0.3225. Four
trades were made ranging from $0.3250 to $0.333.