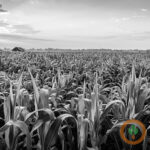 Warm weather and scattered rain helped Michigan's crops last
week. USDA reporters say Friday and
Saturday brought some locally heavy rain to the Lansing area.
Michigan's corn and soybeans are near full emergence with
53% of corn in good condition and 12% excellent. USDA says Soybeans are 51% good and 13%
excellent. 62% of winter wheat, 88% of
barley, 81% of oats, and 42% of sugarbeets are in either good or excellent
condition as of Sunday.