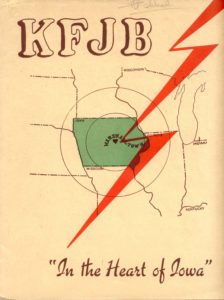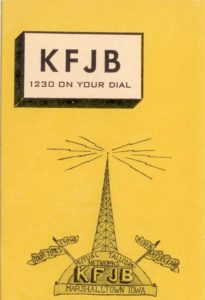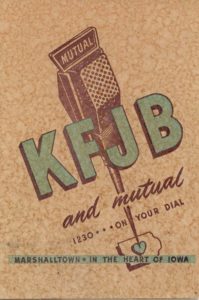 EARLY HISTORY OF KFJB, MARSHALLTOWN IOWA
In 1922 Earl Peak, owner of Marshall Electric Company asked Merle Easter, an engineer at Marshall Electric Company and Chauncey Hoover if they could build a "radio-telephone station".  A five-wire antenna was mounted on poles on the west side of Marshall Electric Company building at the corner of 16th and Main allowing the 10-watt homemade transmitter to broadcast to Marshalltown.  Before call letters were issued, the radio station was simply known as amateur code station 9-DCV and 9-LT. On June 2, 1923 KFJB was officially licensed by the Department of Commerce and given the frequency of 1210.
In the fall of 1922 staff at the radio station ran a microphone cable through a studio window and along a West Main Street ditch to Franklin Field which was three blocks away at the corner of 13th and Main Street. Two Marshalltown football games were broadcast live in a single afternoon.  In May of 1923, cable was again extended to Franklin Field to broadcast a live track and field event with Merle Easter providing track side coverage. These live remote sports broadcasts are considered to be the first of their kind in the United States.
A little latter in 1923 KFJB began offering regular programming which included vocalists, sermons, speeches, comedians, and news. One of the biggest problems KFJB faced was staying on the right frequency, and the little 10-watt signal could be reached sometimes as far away as Canada. Eventually power increases were granted by the Federal Communications Commission to 15 watts is 1927, 100 watts in 1928, 250 watts in 1930 and 1,000 watts in 1961.
In September of 1937 new studios were completed in the Marshall Electric location at 16th and Main at a cost of $35,000. Earl Peak passed away in 1945 and the radio station was briefly operated by a group of Des Moines businessmen until it was sold to the Times Republican Printing Company on April 18, 1947. In June of 1947 the studios briefly moved to the second floor of the Batesole Building at the corner of 2nd and Main Street. On November 11, 1948 a fire caused extensive damage to these studios causing a temporary broadcast location in the Times Republican building across the street. In 1949 KFJB moved to a new state of the art studio on the 3rd floor of the Lay Building at 133 East Main Street. The building was then referred to as the KFJB Building. (This building burned down in February 8, 2012.) In 1949 the radio station had a staff of 21 employees including announcers, copywriters, secretaries, news staff and announcers. KFJB continued operation at this location until December 15, 1979 when it moved to its present location in the basement of the former J.C. Penney building at 123 W. Main Street.