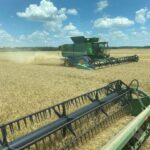 A southern Illinois farmer is not happy with winter wheat
conditions but is continuing harvest to get double crop soybeans in the ground.
"Of course, our goal is to try and get the soybeans in as quick as possible. We have that insurance date coming up where we start losing 1% a day. So, we have the drill following us basically."
Brownfield's Rhiannon Branch rode along in his combine on their fifth day of harvest Friday, June 19th.