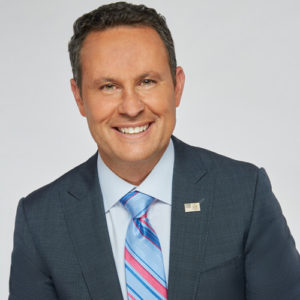 Brian Kilmeade Show | 9am – 12pm
Brian Kilmeade is not only the co-host of cable news' #1 morning show 'FOX & Friends', but the host of 'The Brian Kilmeade Show' here on News Talk 1230 KFJB.  In 2019, Talkers Magazine ranked The Brian Kilmeade Show at #7 on their annual 'Heavy Hundred' of the most important radio talk show hosts in America.
Brian has written six NY Times best-selling books including Sam Houston & the Alamo Avengers', which was released in Fall 2019. Brian's love of history has recently continued with his new series 'What Made America Great' available on FOX Nation.
Prior to joining FOX News Channel, Brian held anchor and reporting roles on NEWSPORT TV, KHSC-TV in Los Angeles and was a host on all sports radio's XTRA AM 690. He currently resides in Massapequa, NY where he grew up with his wife and 3 kids. When he is not working, you can often catch him on the soccer field watching or coaching. He graduated from LIU-CW Post with a BA in Communications specialization in Political Science where he also played soccer.
Every weekday morning, Brian Kilmeade provides KFJB listeners with the latest on breaking news, sports, politics and entertainment. With A-List guests, Brian's interviews are second to none.
Facebook: https://www.facebook.com/Kilmeade
Twitter: https://twitter.com/kilmeade
Instagram: https://www.instagram.com/kilmeade/